Scott E. Holstein, CPA, PFS, CFP®
Wealth Management - Financial, Retirement & Estate Planning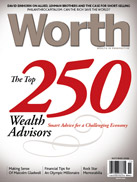 Our services cover all areas of financial management, from investment and retirement planning to risk management and estate conservation. We specialize in helping our clients develop a comprehensive, cohesive financial strategy that fits their unique needs and enables them to meet both short and long-term objectives. Our website offers  educational articles that outline financial concepts and calculators that will help you assess your current and future needs as well as 24/7 access to your accounts.   
Proud to be included in Worth magazine's list of  the top 250 Wealth managers in America, as an Honor Roll Advisor with Paladin Registry and as a Five Star Wealth Manager in Philadelphia magazine 
 follow us on social media
Tax code provisions may allow for larger, immediate deductions for businesses: bonus depreciation and IRC Section 179 expensing.

Solo 401(k)s and SEP IRAs are relatively simple for small-business owners and self-employed individuals to set up.

Indexed annuities offer potential for gain when the market is rising while helping to protect principal during a downturn. But they are not appropriate for every investor.

Younger baby boomers may be facing a more challenging retirement landscape than older members of the generation, according a recent survey.