Scott E. Holstein, CPA, PFS, CFP®
Wealth Management - Financial, Retirement & Estate Planning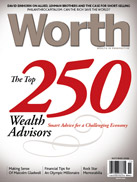 Our services cover all areas of financial management, from investment and retirement planning to risk management and estate conservation. We specialize in helping our clients develop a comprehensive, cohesive financial strategy that fits their unique needs and enables them to meet both short and long-term objectives. Our website offers  educational articles that outline financial concepts and calculators that will help you assess your current and future needs as well as 24/7 access to your accounts.   
Proud to be included in Worth magazine's list of  the top 250 Wealth managers in America, as an Honor Roll Advisor with Paladin Registry and as a Five Star Wealth Manager in Philadelphia magazine 
 follow us on social media
Helping a grandchild obtain a college degree could be life-changing for the student. Still, it's important to consider how a gift could affect student aid and taxes.

A discussion on the initial public offering (IPO) process, recent trends, and investment risks.

Treasury Inflation-Protected Securities (TIPS) can help hedge a bond portfolio against a potential spike in inflation.

A flat 21% tax rate may seem like a good reason for a pass-through entity to convert to a C corporation, but there are other factors to consider.