Scott E. Holstein, CPA, PFS, CFP®
Wealth Management - Financial, Retirement & Estate Planning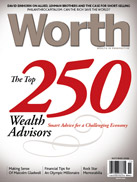 Our services cover all areas of financial management, from investment and retirement planning to risk management and estate conservation. We specialize in helping our clients develop a comprehensive, cohesive financial strategy that fits their unique needs and enables them to meet both short and long-term objectives. Our website offers educational articles that outline financial concepts and calculators that will help you assess your current and future needs as well as 24/7 access to your accounts.
Proud to be included in Worth magazine's list of the top 250 Wealth managers in America, as an Honor Roll Advisor with Paladin Registry and as a Five Star Wealth Manager in Philadelphia magazine
follow us on social media
Discover why it might be worth waiting for a record of financial results before investing in an initial public offering.

Wondering if you can still write off 50% of the cost of business meals? Find out what is and isn't deductible.

Dollar-cost averaging can help investors focus on building their portfolios through regular investing rather than reacting to market swings.

As policyholders age, life insurance could help supplement retirement income, support a surviving spouse, and/or leave a legacy.