Scott E. Holstein, CPA, PFS, CFP®
Wealth Management - Financial, Retirement & Estate Planning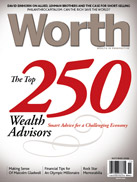 Our services cover all areas of financial management, from investment and retirement planning to risk management and estate conservation. We specialize in helping our clients develop a comprehensive, cohesive financial strategy that fits their unique needs and enables them to meet both short and long-term objectives. Our website offers educational articles that outline financial concepts and calculators that will help you assess your current and future needs as well as 24/7 access to your accounts.
Proud to be included in Worth magazine's list of the top 250 Wealth managers in America, as an Honor Roll Advisor with Paladin Registry and as a Five Star Wealth Manager in Philadelphia magazine
follow us on social media
The difference between a money-losing business and a hobby matters at tax time. This article presents IRS criteria for making the distinction.

An irrevocable life insurance trust can help pay estate taxes, but recent exemption level increases may warrant a new insurance strategy.

Considering investing in preferred stocks? This overview examines the risks and potential benefits.

Discover how to give a substantial gift to a favorite charity while receiving a flow of income during your lifetime.