Scott E. Holstein, CPA, PFS, CFP®
Wealth Management - Financial, Retirement & Estate Planning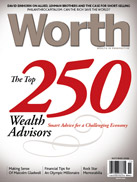 Our services cover all areas of financial management, from investment and retirement planning to risk management and estate conservation. We specialize in helping our clients develop a comprehensive, cohesive financial strategy that fits their unique needs and enables them to meet both short and long-term objectives. Our website offers  educational articles that outline financial concepts and calculators that will help you assess your current and future needs as well as 24/7 access to your accounts.   
Proud to be included in Worth magazine's list of  the top 250 Wealth managers in America, as an Honor Roll Advisor with Paladin Registry and as a Five Star Wealth Manager in Philadelphia magazine 
 follow us on social media
A look at the relationship between oil and gas prices, and how global factors have driven up prices at U.S. fuel pumps.

An overview of the tax changes affecting corporations and pass-through businesses and the potential implications for GDP growth.

Roth IRA withdrawal and conversion rules and how they differ from other retirement plans.

The similarities and differences between an HDHP and a PPO plan and contribution limits for health savings accounts.